Spring Soul Cleaning Retreat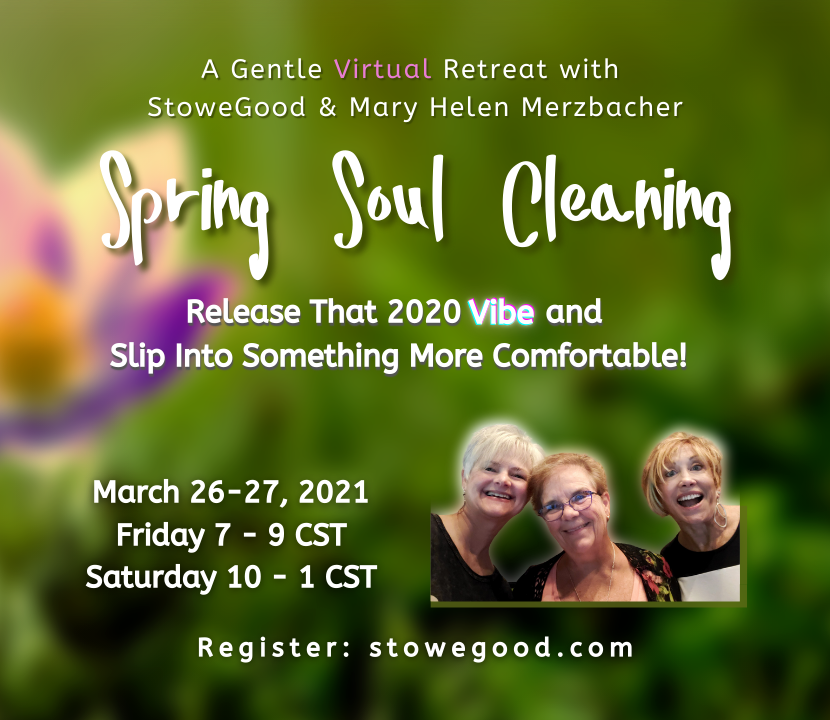 Thank you for your interest in our StoweGood virtual retreat, SPRING SOUL CLEANING! Let's release that 2020 vibe and slip into something more comfortable! We will be gathering on ZOOM, Friday March 26 (7 – 9 CST), and Saturday March 27 (10 – 1 CST).
Give yourself the gift of this retreat, with life-minded souls and let's clean out the lingering clutter of the last 12 months. We'll gather up the isolation, anxiety and fear and take it to the dump!!!
Join us for 5 hours of fun, community and bonding. We'll share music, mediation, movement, laughter, tapping and toning as we bid adieu to "the year that shall not be named" and usher in a season of hope, hugs and sunshine.
This is a women's retreat – please let us know if you'd like the next one to be all-gender
We are suggesting a $75 fee for this mini retreat. Feel free to register with this amount, with a lower amount, or a higher one – whatever is comfortable for you and your budget.
Your payment will guarantee your spot. You can pay one of four ways:
Complete the form below and check out using a credit card.
PayPal: paypal.me/stowegood. Just leave us a note along with your payment that it is for the Spring Soul Cleaning Retreat.
Venmo: stowegood@stowegood.com. Please leave us a note along with your payment that it is for the Spring Soul Cleaning Retreat.
Send a check to: StoweGood Music, PO Box 681435, Franklin, TN 37068, If you're sending a check, please email us at info@stowegood.com that you'd like us to save you a place!
Once you've registered, we'll send you the Zoom link, and we can answer any questions you might have at info@stowegood.com
Thank you so much! We look forward to connecting with you on the 26th & 27th!.
Karen & Stowe
Your contact information will be used exclusively for sending you information about this retreat. If you would like to start receiving our emails, please join us HERE!