Church In A Flash
StoweGood Presents 25 Heart-Opening Songs for your church, congregation, choir & soloists.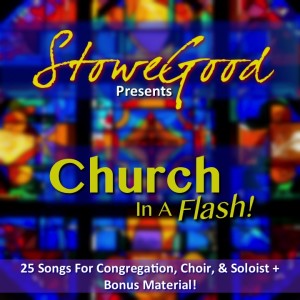 You asked for it – You got it!
25 Songs For Your Congregation, Choir & Soloists
With BONUS Material!
Flash Drive Includes:
16 PowerPoint Slides for Congregational Songs
PLUS 2 Extra Songs and Tracks!
Price $129 + $5 S & H
Church In A Flash features one Grammy-nominated song, several radio hits, and over 20 lovingly crafted songs for our Spiritual Family!
A Mother's Love
All Is Well
Beautiful Brokenness
Dragged
Get a Bigger Pan (Bonus)
God Is So Amazing
God Shaped Hole
God's Refrigerator (Bonus)
Healing in the Hands of Time
How Adored You Are
How Can I Help You Say Goodbye
In The Silence
Kingdom of Heaven
Love Lives On
May My Heart Break Open
My Life Is a Prayer
Nothing Is Impossible
On Angel's Wings
Peace Is All I Know
Perfect Work of Art
Quiet Love
Temple of My Soul
The Question
Unopened Gifts
What I Need
You Are Loved
You Are Not Alone
---
Sold separately, this collection is valued at $270.
Price: $129 +$5 S&H
Purchase Church In A Flash:
Product successfully added to your cart.
View Cart