Books
Thank you so much for showing your support for independent artists by purchasing our books and CDs directly from us!
Click on the book cover to learn more about or buy each book!
Flying High – Book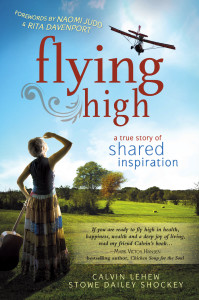 The powerful, true story of
Flying High
was originally intended to chronicle the amazing life of self-made millionaire and manifest-er of dreams, Calvin LeHew. Remarkably, the writing of it helped rescue the life of his co-author, Stowe as she battled cancer. The result of their experience is an uplifting story for the world, of flying high above adversity—a story of personal growth, a tribute to divine guidance, and a reminder to be who we were born to be.
"If you are struggling with adversity of any kind, whether sickness, financial, or just trying to figure out your purpose in this world, there's something precious in this story for you . . . " ~ NAOMI JUDD – Five time Grammy Award winning singer/songwriter
On Angel's Wings – Book/CD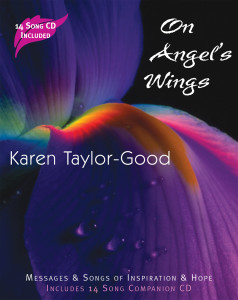 This small but powerful book with it's companion 14-song CD is used around the world by grief support groups. It contains the songs, lyrics, and stories of  "Precious Child" and "On Angel's Wings" – the songs Karen was born to write. It also includes, "How Can I Help You Say Good-bye" and the uproarious "OBG Why Me Blues." Let these songs and stories refresh your soul!
"I was unprepared for the depth and sweet power of this musical book, On Angel's Wings. For all of us who are touched, moved, and transformed by this wonderful CD/Book, I thank God for Karen Taylor Good." ~ Mary Manin Morrissey – Author of Building Your Field of Dreams & No Less Than Greatness