On Angel's Wings – Karen Taylor Good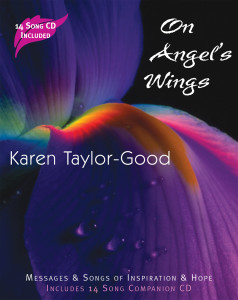 On Angels Wings – The Book w/14 song companion CD
This very powerful and healing book/music set has been used around the world to comfort the hearts of grieving parents and caregivers of Alzheimer patients, as well as victims of bullying. Songwriter Karen Taylor Good puts pen to paper to share poignant stories, song lyrics and love notes that are heart-felt and moving. This book features such beautiful songs as the Grammy-nominated, How Can I Help You Say Good-bye, Kinder, Precious Child, the humorous OBG Why Me Blues, and Karen's signature song, On Angel's Wings.
*Includes the 14 Song Companion CD- On Angels Wings
Click HERE for song previews or to purchase digital download.
Product successfully added to your cart.
View Cart
Successfully Added to your Shopping Cart

Successfully Added to your Shopping Cart
Contains:
(Chapter – Song)

Unanswered Prayers – "What I Need"
(Accepting that sometimes the answer to a prayer is, "No.")
Hold The Mayo – "Me There In The Middle"
(An insightful look at the 'Sandwich Generation.' Being caught between aging parents and growing children.)
Flight Preparations – "On Angel's Wings"
(Confronting Alzheimer's, old age and the inevitable loss of a parent.)
The Not So Still Small Voice –
"How Can I Help You Say Goodbye"
(A look at the loss of friends and loved ones throughout life.)
The Shnoz and I – "Kinder"
(A plea for understanding and acceptance.)
Superman Unplugged – "Real Men Cry"
(Dispelling the myth that men should be made of steel.)
The Wisdom of Pinocchio – "Real"
(A powerful quest for one's authentic self.)
Speaking the Unspeakable – "The Eleventh Commandment"
(A soul-wrenching look at the issue of child abuse.)
Teenage Mutant Alien Pod Person –
"Heart Of My Heart (Where Did You Go?)"
(A poignant look at the alienation experienced between
teenagers and parents.)
Hello? Is Anybody There? – "Friend"
(A spiritual search for that which was so clear to us as children.)
Gone Too Soon – "Precious Child"
(Experiencing hope after the devastating loss of a child.)
The Bane of a Woman's Existence –
"The OBG Why Me Blues"
(A humorous look at a trip to the gynecologist.)
Much To Celebrate – "Life Is Good"
(A Joyous celebration of life.)
This Too Shall Pass – "Healing In The Hands Of Time"
(An ode to the most powerful healer of all – Time.)