We'd Love to Hear Your Song! (While You're Wearing Our T-Shirt!)
We'd Love to Hear Your Song! (While You're Wearing Our T-Shirt!)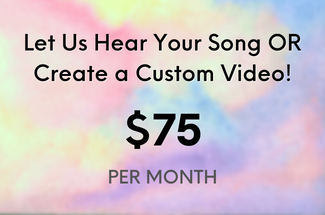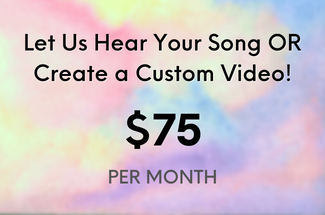 A one-time price of
$75.00
will be added to your order.
We'd Love to Hear Your Song! (While You're Wearing Our T-Shirt!) - $75 a Month
Save 10% by paying annually

Product successfully added to your cart.
View Cart
Successfully Added to your Shopping Cart
You're Incredible! And we can't wait to connect with you on Zoom!
A one-hour Zoom Song Session. Play us your favorite original song(s) performance or mix. And, if you'd like our feedback, we'd love to give it.
From previous Tiers:

A Birthday Video Serenade just for you on your special day
Access to our Angels-Only Monthly Mini-Concert/Chat
Downloads of all 3 of our CD's (52 songs!)
Receive a download of one of Karen's most popular albums—Song Guru plus Color Blind
Stowe's albums Flying High and Angel Chants
Instrumental tracks and lyrics for many of our songs
Musical charts (for many of our original songs)
Your name in the end credits of every YT video and album you support
A You Matter or Ain't Done Yet T-shirt
PDF Download of Stowe's book Flying High and Karen's book On Angel's Wings