A Song for You (annual)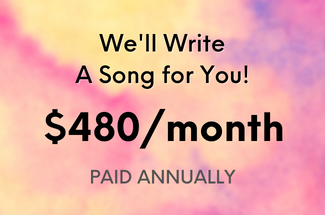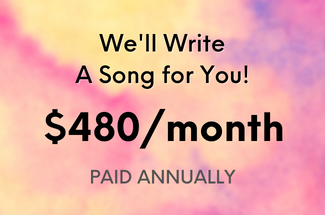 A one-time price of
$5,400.00
will be added to your order.
A Song for You
$450 a Month paid annually (save 10%)
Rather pay monthly instead?

Product successfully added to your cart.
View Cart
Successfully Added to your Shopping Cart
You are truly a SUPER Angel! We would love to write a song for you; to honor a loved one (2 or 4-legged), to celebrate a special occasion, your favorite non-profit or organization... Or even your own personal theme song!
After four months of your wonderful patronage, we'll write a personalized song just for you
From previous Tiers:

A Birthday Video Serenade just for you on your special day
Access to our Angels-Only Monthly Mini-Concert/Chat
Downloads of all 3 of our CD's (52 songs!)
Receive a download of one of Karen's most popular albums—Song Guru plus Color Blind
Stowe's albums Flying High and Angel Chants
Instrumental tracks and lyrics for many of our songs
Musical charts (for many of our original songs)
Your name in the end credits of every YT video and album you support
A You Matter or Ain't Done Yet T-shirt
PDF Download of Stowe's book Flying High and Karen's book On Angel's Wings
Your Choice! A One-hour Zoom Song Session. Play us your favorite original song(s) performance or mix. And, if you'd like our feedback, we'd love to give it. OR, let us Create a Video of a departed loved one or beloved pet using your photos and our music.
Three (3) 30-minute one-on-one video meetings with Karen, sharing vocal tricks and tips from her 30 years of study with one of the premier Nashville vocal coaches, OR with Stowe, sharing guitar/capo tips and tricks she's learned over a lifetime of playing guitar
A one-time, one-hour Zoom concert for you and up to 99 friends
After supporting us for one year, we'd love to give an in-person concert in your home (airfare and lodging to be paid by patron/host)