It's StoweGood to Be Podcasting!

How many of you out there listen to podcasts on a regular basis? If not, we invite you to check them out on your laptop or smartphone.
iPhone users will find a little purple icon that will take you into the wonderful world of iTunes podcasts. And for those with an Android, check out an app called Stitcher.  

So why are we suddenly concerned whether or not you're listening to podcasts? Because we want to make sure that you check out OUR new podcast – Musically Speaking. Yes, we are dipping our toes into the podcast waters and so far we're really enjoying it.
Musically Speaking is a chance for us to not only share a song (which we're sure you know we LOVE to do!), but it's also an opportunity to tell how that song came to be, what it means to us, and to explore what it might mean to you. We also laugh a lot! Hope you'll join us for the music, the message, and the fun!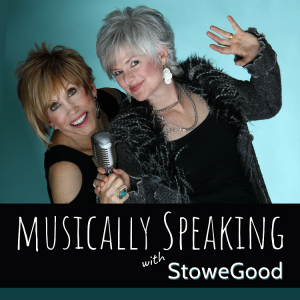 Musically Speaking is an intimate conversation between Grammy-nominated/hit songwriters Stowe Dailey & Karen Taylor Good (StoweGood)—and you. Individually, these mature women have survived difficult childhoods, cancer, child-rearing, aging parents and the music business. Together, these two sister-friends travel the world sharing their powerful songs and stories via concerts, keynotes, workshops, retreats—and now—podcasts! Their work, described as "music for grown-ups" has been called "life-changing and transformational." It doesn't hurt that they're funny, too. So stop reading this and start listening already!